Sculling
For the currently accepted regulations covering the running of IV sculling, see Sculling Rules.
Displays of beer-drinking prowess are usually associated with sporting intervarsities and student engineering symposia, and it therefore comes as a surprise to many that choral IVs have their own tradition of drinking races. In fact, 'boat races' are a comparatively recent intervarsity phenomenon, their advent being closely associated with the general social revolution that took place throughout the entire Australian student community in the mid-1960s.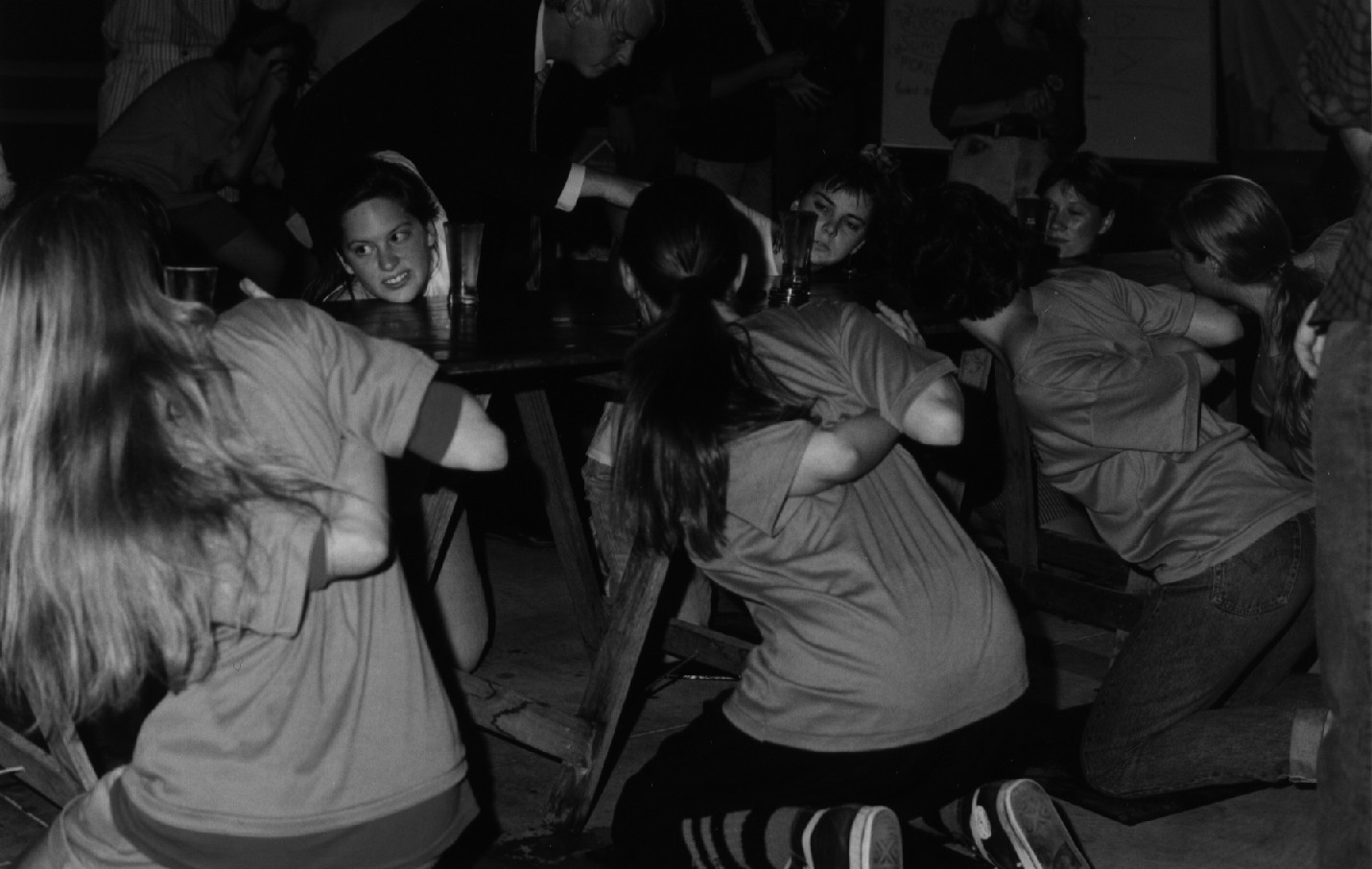 Women's scull at Melbourne IV 1991
The early days of IV (during the 1950s) were characterised by the earnest involvement in good, clean group activities which ranged from nearly continuous self-made music – madrigal singing, instrumental consorts, etc. – through entertainments such as musical games and square-dancing, to serious discussion groups, seminars, lectures and workshops. Though few societies were represented (only SUMS, MUCS and QUMS attended for most of the decade), contingents of about one hundred choristers per society were commonplace, travelling interstate by bus or train in a single group of boundless enthusiasm. Yet coffee and tea were the norm at IVs: excursions to the pub were regarded with distaste, and as for having grog at the campsite, well, that was unheard of! In those days, boat races were held regularly … in canoes on the local river. "Downing one" was a matter of some concern!
Then, in the 'sixties, behavioural patterns began to change. Greater affluence meant more money with which to purchase cars and airline tickets. Not only did travel arrangements become more flexible, but the greater individual mobility afforded by cars led to a general diversification in students' pastimes and social activities. Moreover, the purchase of hi-fi equipment for one's own living room reduced the need to go out and participate in group music-making activities. These years also witnessed the emergence of student activism, directed not only at political stupidity and social injustice, but also at the organisation of the universities themselves. The consequent restructuring of teaching methods, in particular the trend toward continuous assessment, had far-reaching effects on students' leisure time. Instead of dedicating most of the first and second academic terms to a favourite club or society, then cramming frantically cramming in third term for the annual examinations, the typical student now had to distribute his or her time between study and a wide range of other interests, resulting in a lessened commitment of time to the latter.
Thus, for a variety of reasons, the choral societies' membership began to decline. SUMS, for example, could boast an average of 250 at lunch-time rehearsals in 1950, while by 1967 fewer than one hundred were expected at rehearsals now held in the evening. The overall participation in intervarsities during the 1960s remained at a plateau of between three and four hundred, however, for while each society's contingent diminished in size, the number of societies attending was growing.
The world-wide reappraisal of moral standards brought about significant changes in two aspects of life at IV. The movement toward, and acceptance of sexual equality started the trend toward shared dormitories and sometimes even washroom facilities. The easy availability of inexpensive and effective contraceptives also paved the way for more widespread dalliances, a situation not assisted by the increasingly relaxed attitude to the consumption of alcohol which had come to be accepted as a natural adjunct to choral activity, both as a socialising agent and as a mere lubricant. With the general loosening of state liquor licensing laws, especially those pertaining to opening hours and minimum drinking age, the 'pub session', with its attendant sing-a-long, became an essential and highly enjoyable ingredient of any choral intervarsity festival.
By 1964, the tide of IV liberalisation had carried the idea of communal pub sessions beyond general acceptance to a stage of general participation, and the public houses of Ballarat and Melbourne resounded to the strains of the Verdi Requiem. In the following year, the Burleigh Heads Hotel witnessed the first competitive, albeit informal, IV drinking displays. At that time, MUCS was blessed with numerous heavies of the engineering persuasion who could add considerable verve to both singing and drinking in any tavern, and when a coy challenge was thrown out to their QUMS counterparts, there it was, a boat race! It is said that the publican did so well in that one week that he turned on free beer on Sunday for the whole IV contingent – all being "bone fide travellers" according to the Sunday trading regulations, of course – and then took his family on a three-week Pacific cruise to celebrate.
Much the same happened again in 1966, where the redoubtable MUCS challenged all comers, and triumphed in swills of glory. By Saturday night, the New Norcia pub had been literally drunk dry. By the time of the Sydney IV in 1967, MUCS had determined that their supremacy in the raising of the wrist ought to be immortalised by donating a trophy for formal sculling competitions at IV. The inaugural trophy was known as the "Charlie Mupps B.I. Trophy for Men's Eights". It must be remembered that contingents of sixty to eighty were still the norm, at least from the big four (SUMS, MUCS, QUMS and AUCS), so that a team of eight was not unreasonably large.
Not to be outdone, however, the TUCS women rallied to their glasses and doused the aspirations of all contenders of the fair sex. Following MUCS's example, those victorious TUCS ladies bestowed a trophy for a Women's Four event, with every expectation of winning on their home ground in 1968. Four sweet young innocents from SUMS thwarted their hopes, however, gurgling their way to a clear victory. And faraway Adelaide succeeded in wresting the men's trophy from the tight grasp of MUCS by the artifice of collaring Bob Gilbert to row twice for the AUCS crew.
Under the accepted "Rules of Sculling" (a version of which is reproduced in Appendix D), the crew size may be smaller than the actual number of glasses to be consumed, in which case, one or more team members must drink two or more glasses in each race. This leniency led to the downfall of the men's eight as a regular event. In Hobart in 1968, FUCS could only round up six drinkers, while QUMS found themselves two starters short with the result that Andrew Penman drank three glasses per race. Surprisingly, QUMS managed to reach the final (via several reruns), after which Penman managed to dive through the door which, unfortunately, led only to the elegantly furnished lobby of the university hall beyond. Even Mr Penman, however, lacked the extra-ordinary capacity exhibited by Clarke "Four-at-a-Time" Gerber at Chevalier College during the 1975 Sydney IV, where he was the sole representative of the Macquarie Music Makers. Gerber's subsequent eruption (or perhaps evacuation would be a more precise description) in the only doorway out of the arena proved to be a decisive argument in favour of smaller team events.
The first formal individual title race was not held until 1971 at Frensham School, Mittagong as part of the Sydney IV. It was won comfortably by Richard Hartley (SCUNA), resplendent in gabardine raincoat and floral headband. For this feat he received the front half of a small, black, carved wooden elephant. Just why this should be, is explained in the 1984 IV Traditions pamphlet:
when the legendary Bob Gilbert (who had won an unofficial individual race the year before) had departed these fine shores in 1970 bound for a term of post-doctoral dysentery, SCUNA presented him with a token of their esteem, a surrogate Horse's Arse. Such an artefact was indeed a simple but fitting tribute to the tenor who had given that song a whole new meaning. The only catch was that no-one could get hold of a horse at the time, so that the hindquarters of little carved elephant had to suffice. When, in 1972, it proved impossible to retrieve either portion of the beast, the present trophy was created: a plastic Dumbo, tastefully mounted, arse-up, on a pedestal.
Mary Nettle of FUCS made history in Sydney in 1975 when she became the first (and only) woman ever to win the individual trophy while it was still an open event, that is, open to all-comers, no matter what gender. Around 1987, a trophy was inaugurated for the women's individual race and awarded in retrospect to Ali Jonas who had won the previous year in what was the inaugural running of separate men's and women's events.
Other categories and events have been added over the years. The "mixed eights" – requiring at least three members of each sex in each team – were first contested in Brisbane in 1972 and won by the home team who also donated the trophy in an attempt to revive interest in larger teams. Less serious races, although contested with the same ferociousness, were introduced in a spirit of inclusiveness and equality. The "Fresher Fours" allowed inexperienced choristers (although not necessarily inexperienced drinkers) to participate fully without the pressure of being pitted against the veteran scullers.35 The "Veteran" class (meaning old, not well-practised) is unusual in that there is no limit on the number of members in the crew, as long as the sum of their ages exceeds 150. Clearly, unless crew member s are extremely slow drinkers, the smaller the crew (and therefore the older) the better. Moira Chapman starred at the 1996 Canberra IV – her first and, at the time, stated to be her last appearance in the boat races – when she anchored the winning QUMS veterans team. The most recently introduced race is one for non-drinkers! In what must be one of the most important wins in the history of the anti-discrimination cause, those who do not consume alcohol – whether for religious, medical or aesthetic reasons – are able to enjoy all the pleasures and excitement of the boat racing phenomenon, without the unpleasant side-effects. Only true tea-totallers are eligible to scull in the "Non-Alcoholic Fours" which were introduced as an entirely spurious and light-hearted race at Melbourne 1991 and first competed for officially in 1993.37
Finally, there are a number of novelty races which are revived from time to time to provide a little light-heartedness during an otherwise long and intense evening of committed intervarsity rivalry. For these events, society affiliations are thrown to the winds, thoughts of beating speed records disappear, and fun and foolishness are the order of the day. Memorable teams include the Guinness Appreciation Society (have you ever seen a sculling race where you have to wait for the beer to settle before drinking?) versus the Daniel Barfoot Memorial Jug Scull from Canberra IV 1996, and the semi-perennial Gay Gulp which is usually accompanied by outrageous pink frilly costumes and even more outrageous and exotic pink frilly drinks.
Some thought ought to be given to the size of glasses used for the individual title. Hitherto, the same glasses have been used for the team events, varying from six to eight fluid ounces, depending on local custom. The result of this is that most of the drinker's time is spent lifting and replacing the glass. Although sculling is intended as a sprint rather than a long-distance event, there should really be enough beer in each glass to make the event a test of genuine drinking ability and not just of basic coordination.
According to Robert Kay (most recently of PUCS), the record time for an individual is 1.21 seconds for a seven ounce glass, shared by Mark Penman and Keith Currie, which was set at Port Elliot in 1974. Currie was eventually awarded the trophy on a majority vote of the scrutineers after three re-runs had failed to produce a clear result. The judge and scrutineers at Perth in 1997 were not so easily persuaded of a winner in the women's individual scull, eventually declaring a tie between two MonUCS representatives, Leanne Veitch and Rhiannon Barnes.
The tables on the following pages show the winners of all trophies to date. Two names separated by a slash indicates a dead heat. The official inscriptions from, and descriptions of, each trophy are given below: